Hygiene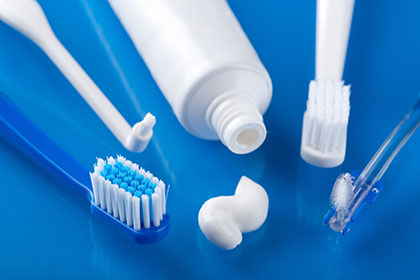 Teeth with braces need special care. To make sure that your teeth look their best when your braces come off… YOU MUST KEEP THEM CLEAN!
Brackets, wires and loose bands can trap food and plaque and make it very difficult to keep your teeth clean.
Proper brushing and flossing is YOUR job throughout treatment.
If you don't keep your mouth clean, the teeth can mark, stain, and decay. The gums can get red, swollen and will bleed easily. Unfortunately, these markings are often at times permanent and can only be removed by your dentist through filings or restorative work.
To maintain a healthy smile throughout treatment just follow these simple rules:
Brush after every meal
Use a soft bristled brush and fluoridated toothpaste
Make sure to remove all plaque and food debris on ALL surfaces of the teeth
Pay particular attention to your gums
Floss once a day, usually at night before you go to bed
Inspect your teeth and make sure they are spotless. If not… BRUSH AGAIN!
---
Proper Brushing
Using a soft brush and fluoridated toothpaste, place the brush at an angle between the gums and the braces. Using a circular brushing motion will keep the gum area clean.
Brush the outside and inside surfaces of your teeth in a back and forth motion.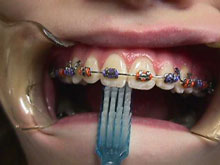 To make sure that you get the insides of your teeth clean, you may need to change the position of your toothbrush.
You will have to spend some extra time cleaning teeth with braces. Try to brush each tooth 10 times.
Don't forget to brush your tongue and the chewing surfaces of your teeth.
---
Because tooth brushing alone can not clean between your teeth, it is essential that you floss your teeth at least ONCE A DAY. This will prevent plaque from sticking to your teeth and causing cavities to form between your teeth. Flossing also exercises your gums and prevents them from getting red and swollen.
Proper Flossing
Flossing with braces on can be a bit tricky at first. Stick with it though, and in no time you will get the hang of it. Use any floss that you like (waxed floss seems to work the best). Start by flossing between the teeth until you hit the wire. This will make sure that the top part of the teeth stay clean.
To get under the wire, use a floss threader (or a special floss that comes with a hard end for easier threading under the wire). This will enable you to get the floss into the gum area, where good cleaning is very important.
Floss around each tooth. Pay particular attention to the area of the tooth under the gum. This is where plaque, germs and food love to hide. Don't press too hard as to cut the gum tissue.
---
Proper Brushing and Flossing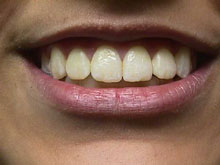 Finished result: a beautiful smile
Poor Brushing and Flossing


Finished result: decay and white spots
---
Remember…
You must continue to visit your family dentist at regular six month intervals for proper cleaning and exams throughout your orthodontic treatment.
Brushing and flossing… along with making your appointments, watching what you eat, and wearing your appliances… all contribute to a successful treatment. Orthodontics is a team sport. While your orthodontist is responsible for straightening your teeth, YOU are responsible for keeping them clean and healthy throughout treatment. If you do not do your job, as straight as your teeth may be at the end of brace therapy, the teeth will not look their best. Work hard and follow our instructions and you will have a beautiful smile that will last a lifetime.
---
Helpful Links
Interested in orthodontic treatment? Contact us below to schedule an evaluation.
Dr. Deme is absolutely amazing! I am beyond happy with my end results! I would recommend his services to any and everyone! The environment in the Mt. Lebanon office is always friendly and welcoming!
Juliandra J.
Forever thanking Dr. Gobbie for the great smile I'm sure to use everyday of my life!
Emily G.
Love, love, love Dr. Deme and the girls! I could not be happier with the service and the results from my invisalign! All smiles here! (-:
Kim M.
Dr. Gobbie and his team are the best and most professional. Our daughter has the most beautiful smile. Because of his perfection she can not stop smiling! Thanks Dr. Gobbie!
Tom K.
I had my teeth straightened here, when no other orthodontist could help. Dr. Gobbie did an excellent job. He made a plan and did what I wanted, where all other orthodontists said my teeth were straight. But not in my eyes, they weren't. Dr. Gobbie fixed them to my likings. I would recommend him to anybody who needs their teeth straightened.
Debra M.
Dr. Gobbie and Invisalign gave me my beautiful smile!
I'm so happy that I decided to go ahead with the Invisalign process. It was very easy and didn't take long at all. Invisalign is a great way to straighten your teeth and it's not very noticeable. Being in my twenties, it was perfect for me because most people didn't even notice that I had anything on my teeth. The trays didn't bother me at all, they were comfortable and I got used to them very quickly.
Dr. Gobbie was great. He and his staff are very friendly and made me feel comfortable every time I had a visit. I trusted him completely - and I'm glad I did! I'm very happy with the way he transformed my smile!
Jamie Z.
Great friendly office that is outstanding with kids. Very flexible with scheduling and responsive when the unknown occurs. Their work is of the highest quality and produces BIG smiles!
Ted P.
My son has started the process of getting an expander and braces. He was nervous. I was nervous. Dr. Deme is SUPER awesome with kids. He explained everything that was going to happen and even went over the patient consent with my son to make sure he understood what was going on. For a process I really hoped my kids wouldn't have to go through, his experience is a million times better than mine was. If you need any type of orthodontic work done, go here. Seriously. You won't be disappointed.
Heather W.
I have two children being treated by them with another to likely need the same treatment soon. Great with the kids during what can be a painful process. Always willing to take the time to completely answer questions from kids and parents.
George H.
I came into their office needing surgical treatment because my teeth and my jaws were all over the place. Two years later my teeth look perfect, and Dr. Deme and Dr. Gobbie managed to align my teeth without surgery! They are truly genuine people and very family friendly all within a stress free environment. Thanks to Dr. Deme and Dr. Gobbie I will be able to smile confidently for the rest of my life!
Cam D.
I can't say enough good things about Pittsburgh Orthodontic Group. My 2 children have been patients for more than a year and we have received nothing but professional service every time. Dr. Deme and Dr. Gobbie are both pleasant and have established a wonderful relationship with my kids. Dr. Deme once dealt with an unforeseen situation in an extremely timely manner. Bonus: the hygienist and the receptionist are equally welcoming and efficient.
Ala D.
Dr. Deme and Dr. Gobbie have been great to work with. Both of my kids are currently having work done on their smiles. Dr. Deme explained everything they wanted to do and why during the initial consultation. The staff is very friendly and will answer any questions you have.
Kelly L.
I have two boys in braces and couldn't be more pleased with the treatment. Dr. Deme always takes time to explain what he is doing so we understand the process and next steps. I feel like he isn't just an orthodontist but also an artist who is sculpting my children's mouths into a perfect smile. He has contacted us over the weekend on a couple occasions when a child has a new retainer or recently installed braces just to make sure things are going well. The office staff are flexible and friendly when I need to change appointments.
Kelli K.
As an adult, I was not looking forward to the idea of having braces — especially since I'd had them when I was in my 20s. I was diagnosed with severe obstructive sleep apnea, and the doctors thought that my best chance was to have reconstructive oral surgery on my lower jaw. The first step was to work with an orthodontist, and I am so happy that I was referred to Dr. Gobbie and his team. They worked with me and my oral surgeon every step of the way — sometimes literally holding my hand! I would never have made it without their help, and now thanks to them, I can breathe, eat and sleep like a normal person.
Thank you so much to Dr. Gobbie, Dr. Deme, Patti and Beth — you have given me so much to smile about!
Shannon O.
Dr. Deme is great! My kids love him. The work he has done for them has gone smoothly and looks really good. I would recommend Pittsburgh Orthodontics Group to everyone.
Moran C.
My daughter and I really like Dr. Deme. He's very kind and takes the time to explain what is going on, and answered all our questions patiently. He also helped us think through how to play a wind instrument with braces which I was concerned about.
Louise T.
Visit any of our convenient Pittsburgh locations: