Emergency Care
We provide 24-hour emergency care. If you are experiencing a true emergency, please call (412) 469-9550 for instructions on how to reach the doctors after normal business hours.
Fortunately, orthodontic emergencies are rare. But, when something isn't right it can be a nuisance. Our primary concern is the patient's safety and comfort. By becoming familiar with the appliances in your mouth and how to handle small problems that may occur during treatment, you can help make your experience with braces a pleasant one.
Band: the metal ring that is glued to the tooth
Hooks: used to attach rubber bands
Archwire: the wire that fits into the bands and brackets and allows tooth movement
Elastic Tie: holds the wire onto the teeth
Bracket: glued onto the teeth to enable movement
Chain Elastic: continuous elastic used to close spaces between teeth
Wire Ligature Tie: holds the wire into place; can also be used to hold elastics
Many of the problems our patients encounter are minor and can be corrected at home. Please make sure to keep the wax that we gave you handy at all times. It can often solve the problem, promote healing, or at least keep you comfortable until you can be seen at the office. If you have misplaced the wax, you will find it available for purchase at many drugstores. In a dire circumstance, substitute gum or even candle wax to keep you comfortable until you can come in for a visit!
---
Sore Teeth
Teeth are often sore after an orthodontic adjustment. This is normal and may last for three to four days. Rinsing your mouth with warm water will help. If there are no known allergies to these medications, Tylenol or Advil will decrease the discomfort.
---
Lost Wax
Call the office for more. In an emergency you can find orthodontic wax in many local drugstores. Gum or candle wax will also help.
---
Lost or Broken Appliance
Call the office to schedule an appointment for a replacement. If broken, bring the appliance to be evaluated for repair.
---
Appliance Does Not Fit
Call the office for an appointment. Do not try to force an appliance into place. This may break it and require us to make you another.
---
Lost Elastic or Ligature Tie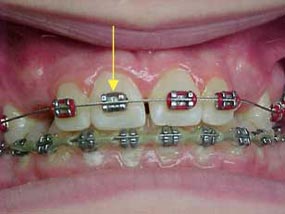 This is usually not a serious concern as long as the patient is comfortable. Call the office to see if an appointment is necessary.
---
Broken Chain Elastic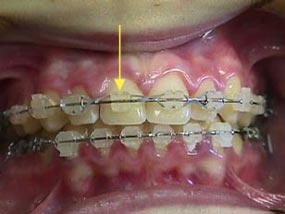 Call the office to see if an appointment will be necessary.
---
Wire Sticking Out or Cutting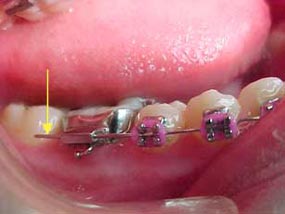 Place wax over the wire for comfort. Soften the wax with your fingers before placement, then mold over the areas. It will need to be replaced often. Call the office for an appointment.
OR ... Using a clean wire cutter or nail clipper, you may cut the wire flush to the band or bracket.
---
Wire Out of the Band or Bracket And Broken Wires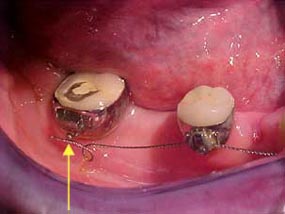 Wax over the area will make it more comfortable until you can be seen in the office.
OR ... You may also cut the wire using a clean wire cutter or nail clipper.
It's best to cut the wire flush to the first band or bracket that is still attached to a tooth. Call the office for an appointment to replace the wire.
---
Broken Bracket (Separated From Tooth)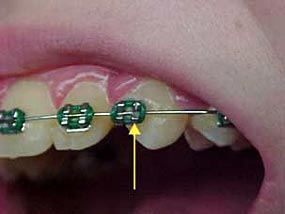 Wax placement will keep the patient comfortable. Call the office to report a loose bracket so that we can insure you have proper time to replace it at your next appointment.
OR ...If the bracket is moving and irritating to the patient, the bracket may be taken off the wire by removing the elastic rubber band around the bracket using a tweezer or toothpick.
---
Loose Band
Try to place the band down using a pencil eraser. DO NOT WEAR HEADGEAR OR ELASTICS ON A LOOSE BAND. If it won't stay, cut the wire flush to the bracket in front of the band and remove the loose band. Call the office for an appointment.
---
IF A SERIOUS INJURY INVOLVING THE TEETH OCCURS DURING TREATMENT, CALL YOUR FAMILY DENTIST IMMEDIATELY.
In order to minimize any problems while wearing braces, remember to watch what you eat. Hard and sticky foods will break the brackets and pull the bands off the teeth. Do not put your fingers in your mouth to play with the appliances. This can also cause items to become loose. And remember to always wear a mouth protector when playing any sports!
I can't say enough good things about Pittsburgh Orthodontic Group. My 2 children have been patients for more than a year and we have received nothing but professional service every time. Dr. Deme and Dr. Gobbie are both pleasant and have established a wonderful relationship with my kids. Dr. Deme once dealt with an unforeseen situation in an extremely timely manner. Bonus: the hygienist and the receptionist are equally welcoming and efficient.
Ala D.
Great friendly office that is outstanding with kids. Very flexible with scheduling and responsive when the unknown occurs. Their work is of the highest quality and produces BIG smiles!
Ted P.
Dr. Deme is great! My kids love him. The work he has done for them has gone smoothly and looks really good. I would recommend Pittsburgh Orthodontics Group to everyone.
Moran C.
I have two boys in braces and couldn't be more pleased with the treatment. Dr. Deme always takes time to explain what he is doing so we understand the process and next steps. I feel like he isn't just an orthodontist but also an artist who is sculpting my children's mouths into a perfect smile. He has contacted us over the weekend on a couple occasions when a child has a new retainer or recently installed braces just to make sure things are going well. The office staff are flexible and friendly when I need to change appointments.
Kelli K.
Forever thanking Dr. Gobbie for the great smile I'm sure to use everyday of my life!
Emily G.
Dr. Deme and Dr. Gobbie have been great to work with. Both of my kids are currently having work done on their smiles. Dr. Deme explained everything they wanted to do and why during the initial consultation. The staff is very friendly and will answer any questions you have.
Kelly L.
I have two children being treated by them with another to likely need the same treatment soon. Great with the kids during what can be a painful process. Always willing to take the time to completely answer questions from kids and parents.
George H.
Dr. Deme is absolutely amazing! I am beyond happy with my end results! I would recommend his services to any and everyone! The environment in the Mt. Lebanon office is always friendly and welcoming!
Juliandra J.
My daughter and I really like Dr. Deme. He's very kind and takes the time to explain what is going on, and answered all our questions patiently. He also helped us think through how to play a wind instrument with braces which I was concerned about.
Louise T.
I had my teeth straightened here, when no other orthodontist could help. Dr. Gobbie did an excellent job. He made a plan and did what I wanted, where all other orthodontists said my teeth were straight. But not in my eyes, they weren't. Dr. Gobbie fixed them to my likings. I would recommend him to anybody who needs their teeth straightened.
Debra M.
Dr. Gobbie and Invisalign gave me my beautiful smile!
I'm so happy that I decided to go ahead with the Invisalign process. It was very easy and didn't take long at all. Invisalign is a great way to straighten your teeth and it's not very noticeable. Being in my twenties, it was perfect for me because most people didn't even notice that I had anything on my teeth. The trays didn't bother me at all, they were comfortable and I got used to them very quickly.
Dr. Gobbie was great. He and his staff are very friendly and made me feel comfortable every time I had a visit. I trusted him completely - and I'm glad I did! I'm very happy with the way he transformed my smile!
Jamie Z.
My son has started the process of getting an expander and braces. He was nervous. I was nervous. Dr. Deme is SUPER awesome with kids. He explained everything that was going to happen and even went over the patient consent with my son to make sure he understood what was going on. For a process I really hoped my kids wouldn't have to go through, his experience is a million times better than mine was. If you need any type of orthodontic work done, go here. Seriously. You won't be disappointed.
Heather W.
I came into their office needing surgical treatment because my teeth and my jaws were all over the place. Two years later my teeth look perfect, and Dr. Deme and Dr. Gobbie managed to align my teeth without surgery! They are truly genuine people and very family friendly all within a stress free environment. Thanks to Dr. Deme and Dr. Gobbie I will be able to smile confidently for the rest of my life!
Cam D.
Dr. Gobbie and his team are the best and most professional. Our daughter has the most beautiful smile. Because of his perfection she can not stop smiling! Thanks Dr. Gobbie!
Tom K.
Love, love, love Dr. Deme and the girls! I could not be happier with the service and the results from my invisalign! All smiles here! (-:
Kim M.
As an adult, I was not looking forward to the idea of having braces — especially since I'd had them when I was in my 20s. I was diagnosed with severe obstructive sleep apnea, and the doctors thought that my best chance was to have reconstructive oral surgery on my lower jaw. The first step was to work with an orthodontist, and I am so happy that I was referred to Dr. Gobbie and his team. They worked with me and my oral surgeon every step of the way — sometimes literally holding my hand! I would never have made it without their help, and now thanks to them, I can breathe, eat and sleep like a normal person.
Thank you so much to Dr. Gobbie, Dr. Deme, Patti and Beth — you have given me so much to smile about!
Shannon O.
Visit any of our convenient Pittsburgh locations: