Overjet Reduction Using a Temporary Anchorage Device (TAD)
The use of a micro-implant (TAD) to correct overjet in an adult. (1) indicates the space created from extracting the first bicuspid.
4 Premolar Extraction to Correct Crowding


Extraction of all 4 first bicuspids to relieve crowding and align teeth.
Flared Incisors

Front upper and lower teeth are moved back into their original position closing all spaces.
Lower Incisor Extraction
Lower incisor extraction (X), to correct crowding. Note space closure in molar area from previous extraction.
Root Extrusion for Crown Placement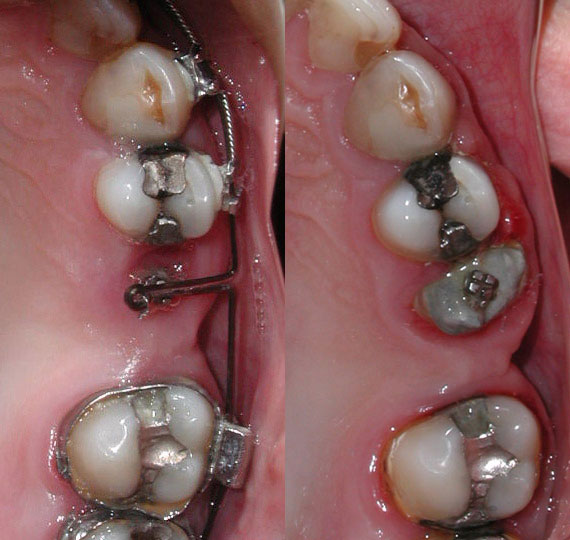 Root is lifted out of the bone slowly (extruded), so that a crown can be placed and the tooth saved.
Cross Bite Correction
Upper dental arch (jaw) is widened and the teeth aligned, so that the upper back teeth now cover the lower back teeth.
Impacted Canines


4 x-rays showing the progress of 3 impacted canines being brought into proper occlusion (bite).
Deep Bite Correction (Non-Extraction)

The upper front teeth are intruded (lifted) and the lower front teeth are intruded (lowered) in order to establish a proper overbite.
(In a proper overbite only 1/3 of the lower front teeth should be covered by the upper front teeth).
2 Premolar Extraction and Overjet Reduction

The upper first premolars have been extracted (first indicates the space where the first premolar used to exist), and all the upper teeth are pulled back. Notice the reduction of the overjet, (the upper front teeth are now up against the lower front teeth).
In the lower jaw, the molar has been pulled forward to close the space that was created from a previous extraction.
Missing Maxillary Lateral Incisors

The patient has no lateral incisors (congenitally missing lateral incisors). The canine teeth (3) are up against the central incisors (1). The spaces were closed and the canine teeth were slightly reshaped to look like the lateral incisors.
Surgical Mandibular Advancement

Lower jaw is surgically moved forward.
Surgical Maxillary Advancement & Mandibular Setback

Both the upper jaw is moved forward and the lower jaw is moved backwards surgically.